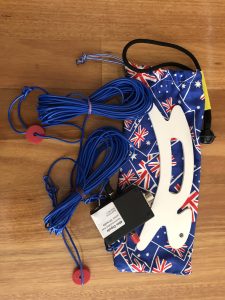 The 40 Metre dipole has been designed and built for QRP operations.  This model has been used extensively by VK3BCM on many SOTA activations in Australia and overseas. It was built to be light weight and strong and specifically tuned for 40m. Recent testing with an analyser indicated that it was also resonant on 6m and 2m. It has been used successfully with an Elecraft KX3 with built in turner on 20 metres, 17 metres, 12 metres and 10 metres.
Antenna has been used with a 7 metre squid pole.
The antenna comes with a faulty workmanship warranty of 30 days. Buyer is responsible for postage on all warranty claims.
Price is for collect only.
Specifications
1:1 Balun
Tuned for the following frequencies
Maximum tested power was 50 watts SSB
Coax connection PL259 or BNC
Antenna package comes with:

Antenna bag
Winder
Balun
Antenna wire
Insulator disc
Rubber band to attach to squid pole