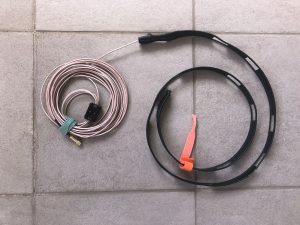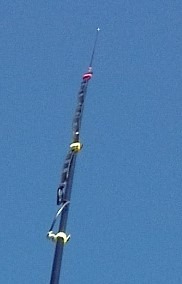 Ideal antenna for SOTA or Park operations on 2m.
Understanding It
The Slim-Jim was the brainchild of Fred Judd G2BCX who named it due to the J Integrated Matching and the fact that it's, ahem, Slim.  Us Hams do like to give interesting names to our contraptions.  The Slim Jim is vertically polarized, omni-directional and offers increased performance over the humble 1/4-wave with a take-off angle of around 10 degrees.
Using It
The Slim-Jim makes a great temporary aerial for use in a hotel room, perhaps hanging from a curtail rail.  It also works great as a /P aerial when placed up a non-conductive pole (like a telescopic fishing pole).  The Slim-Jim is velcro-tied to the pole at around 2/3 up and used with my FT-60 handheld for local QSOs on 2m.
Keep it away from metal objects – the tuning will go a bit wonky if there's any substantial metal nearby.  Also, it won't like you holding it – so try to mount it somewhere sensible when tuning/using it.  You may wish to add a snap-on ferrite at the base of the aerial to act as an RF choke.
These have been made by the radio club using 450 ohm ladder line. Coax feeder is RG58u and the antenna can be fitted with SO259 or RCA plug depending on your requirements.
Cost does not include postage. Price for collect only.